Find your bus!
Mobile
Track a bus in real time on IU Mobile. Download the app for your Apple or Android smartphone.
Desktop
Track and get information on the load capacity and estimated time until the next stop with Bus Genius.
Now Hiring
Now hiring for a part-time position.
Let us get you where you're going
We can take you around campus, to College Mall, and bus stops to catch a Bloomington Transit (BT) bus.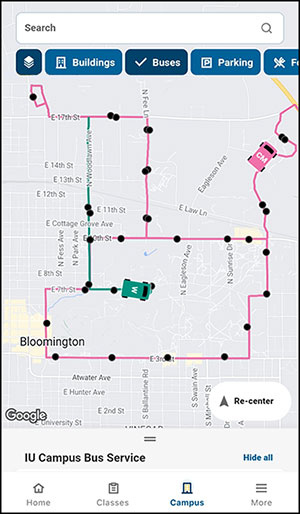 Our fleet is 100% accessible!
All of our buses are outfitted with an air-adjustable suspension system that enables the driver to lower the bus to the curb, facilitating easier entry and exit for individuals with limited mobility. Additionally, each bus in our fleet comes equipped with a wheelchair ramp.
Your transportation options
IU offers several services to help students safely get around campus, around town, as well as to and from Bloomington. Watch and learn.
Description of the video:
There are lots of essential items you'll need at IU this fall, but a car doesn't have to be one of them. IU Bloomington has a number of transportation options that are perfect for when you're going to class, running errands, or returning home during breaks. Walking is a great way to get where you're going, both on campus and in town. It's easy, healthy, safe, and free. If it's too far to walk, then the fastest mode of transportation might be biking. IU Bloomington is a scenic, bike-friendly campus with plenty of flat, low traffic streets. You'll find convenient places to park your bike all over campus, handy fix-it stations to help with maintenance, and bike lockers you can rent for safe storage.
Another great option is Campus Bus, especially when the weather takes a turn. A variety of routes get you wherever you need to go on campus, and you can see exactly where your bus is with the real-time DoubleMap app. When you go off campus, check out Bloomington Transit, which has routes all throughout the city limits—perfect for trips to get groceries or run other errands. IU students ride Bloominton Transit fare-free—just show your CrimsonCard! Bloomington Transit buses also have bike racks making it super easy for anyone who wants to use both.
If you prefer a car, but don't want the hassle and cost of maintaining your own, IU has car-sharing, ride-matching, and safe-ride services as well. Zipcar is a car-sharing option for anyone on campus who is at least 18. Zipcars can be rented by the hour or day, so they are great for short trips around Bloomington. International drivers are welcome, and insurance is included. Zipcars have dedicated parking spots on campus to make your trip easy. For other car trips, you can also use the Hoosier Rideboard, which is IU's free and exclusive ride-matching platform. You can offer or request rides for commutes, road trips, popular events, or anything else. And to keep you safe late at night, IU offers IU Ride, which provides free, safe rides within Bloomington city limits. Just use the IU Ride app to request a ride.
Want to know more? Visit transportation.indiana.edu.